Dynastar, Lange, Look, Summer Equipment Offer
Open to registered BSA athletes, 2018/19
Please ensure correct size is ordered, once order submitted this cannot be changed. Terms of supply noted on form and delivery options below.
Access order form here Dynastar Offer 2018 Order Form
Contact:
Darren Morgan (Scotland)
Ski Racing Supplies (North)
Ski Bartlett (South)
Delivery dates as follows; Order Deadline 22 May for delivery Les Deux Alpes BSA Summer Camp (stock availability dependent),
Order deadline 20 July for Tignes BSA Autumn Camp,
Order deadline 20 Sep for Aosta BSA Winter Base.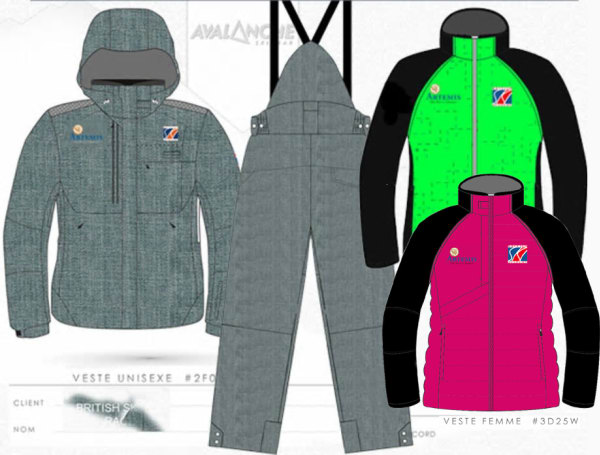 Avalanche British Ski Academy Uniforms, 2018
Black & Green or Black & CeriseTraining Top, £120
Soft Shell, available to all trainees.
Jacket and Pants, £360
Available to all BSA members. More information on request. We are now taking orders. Please contact Malcolm for further details.
Place orders In advance, stock will be available on arrival from season start in Pila, December 2018.
BSA Training/Gym Kit, full set 2018
Delivered within 4 weeks of order, fully branded and named, the new BSA Training Kit, sent to your home address, with BSA holdall included, now available, see Shop.
Further equipment:
We can supply shin pads, pole guards, training shorts and all necessary racing accessories and ski maintenance gear in resort. We recommend black training shorts.
Long and short sleeve Tee shirts supplied on race camps, usually available in resort.
BSA Catsuits (race suits)
We carry a small stock of fully padded BSA catsuits. Please contact Malcolm for-off-the shelf orders.
For standard orders of BSA padded or speed suits, or for made-to-measure, please email Dr Bobo direct to place an order. Usually allow five weeks: boris.bolaric@drbobo.eu specify "British Ski Academy race suit" and whether or not you require padding.
Dr Bobo Pricelist