BSA - Winners of the Best Ski Academy at the English Alpine Championships 2019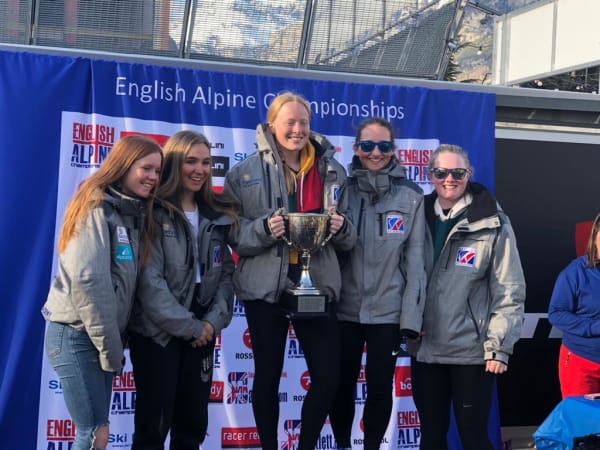 Pyeong Chang, Winter Olypmics 2018
Four plucky former BSA trainees knocked out Team USA in Saturday morning's Olympic Alpine team event, and were then only two tenths off beating the Norwegian team (the eventual bronze medal winners). An inspired performance from Alex Tilley, Laurie Taylor, Charlie Guest and Dave Ryding, who finished in joint fifth place. Putting that alongside Dave's ninth place in the Olympic slalom, only half a second from bronze, and Laurie's 26th place, that's our best Olympic showing in sixteen years.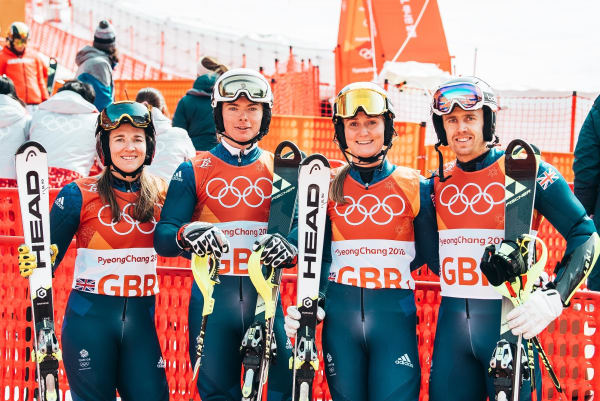 Back in the day these rockstars logged a total of 150 weeks of ski academy training between the four of them. Dave is a wee bit of a ringer on Team BSA with only a few weeks logged, but hey, we'll take him.
Laurie Taylor
Born in 1996, Laurie first learnt to ski race at Bracknell and joined the British Ski Academy in 2007. From age 16 to 18 Laurie helped to pay for his seasons by helping with the BSA dish-washing. Dishes were never washed so fast or so well.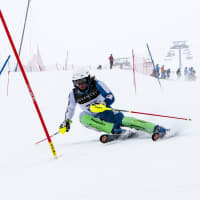 TJ Baldwin, BSA , British champion 2011, 2012:
"Going to BSA has given me some of the best memories I have to date. I had so much fun there, I absolutely loved it. But not only was it fun, it was hard work. The skiing I did and the skills I learnt from BSA is what gave me the platform to build on to get where I am today. Without BSA I can confidently say I would not have progressed to the level I am at now as quickly as I have done. Not only did it stand me in good stead with my skiing, it also gave me the best possible schooling to do well in my GCSEs. I enjoyed going to school at BSA more than I ever did when I was at home. The teachers were always great, and, with a better teacher to pupil ratio, we always got the help and attention needed to fly through the work quickly and successfully. There will always be a place in my heart for BSA and I would recommend it to anyone!" TJ
Ed Drake, British SkierX champion:
"The British Ski Academy is a fantastic programme. I was able to complete my studies whilst being able to ski full time. It was like bringing the mountains into my classroom." Ed
Alex Tilley, British women's team
"My time at the British Ski Academy has given me vast experience in many different areas of my life. Not only did my ski racing improve huge amounts, but I grew a lot as a person as well. I started off as a homesick and shy 10 year old, and left as a fairly confident 15 year old who never wanted to go home. Schoolwork was never a problem as the set up allowed me to apply myself 100% both on the hill and in the classroom. I also made some great friendships at BSA, which I still value highly to this day. I pay huge credit to BSA for who and where I am in my skiing career to date, and wish to thank everyone involved for giving me such incredible opportunities, and some of the most memorable days of my life." Alex
BSA current and former trainees on national teams past and present include:
Charlie Guest, TJ Baldwin, Jack Gower, Alex Tilley, David Ryding, Charlie Raposo, Ed Drake, Jai Geyer, Roy Steudle, Joanna Pilarska-Greig, Andy Noble, Paul MacMillan, Mollie King, Jamie Miles, Melissa Piper, Lynn Sharp, Aaron Tipping, Sega Fairweather, James Filsell, Harry Brown, Niki Sole, Jack Evans, Sam Wrench, Harriet Steggles, Nick Robinson, Scott Bryson, Marc Telling, Blair Laidlaw, Jan Kochalski, James Foster, Tristan Glasse-Davies, Donald McIntyre, Benn Hall, Sam Wyer, Dani Polley, Jo Ryding, Eilidh McLeod, Euan Kick, Jordan Fellows, Jazzy Butcher, Megan Jenkins, Yas Cooper, Erika Heginbotham, Katie Guest, Chris Guest, Fraser Buchan, Alice Macaulay, Jessica Anderson, Zak Vinter, Fraser Middleton, Jake Lismore, Laurie Taylor - and many more!
The BSA has also provided an Alpine springboard for talented freestylers like Sam Allen, Will Feneley and Telemark world cup winner, Jaz Taylor.