As a condition of booking, attendance at race camps outside of the UK require BSA registration for 2018/19. If not completed already, please download the BSA Registration Pack: Applications nb. School info and season dates are not required for the following events, and can be confirmed in due course, please specify what dates, or approx dates you can.
LITHUANIA INDOOR SLALOM CAMP: 28 September to 02 October
Restricted FIS & U16 group only.
£670, flights not included. See below. Price includes full board, skipasses, training and transport. Bring euros to buy food for travelling on airport transfers. Injected World Cup Surface!
We will bring machines for speedy edge sharpening between sessions. All our athletes MUST arrive with extra sharp skis with clean and well-prepared sidewalls, otherwise the machine doesn't work. Spend time in your ski room! if unsure this is the appropriate camp please call Malcolm on 07970495533.
Booking deadline 05 September
Flights for athletes:
WIZZ AIR 28/09 LTN - VNO 7:40 - 12:20
WIZZ AIR 02/10 VNO - LTN 19:05 - 20:00
TRAININGS:
28/09 18:30 - 20:30
29/09 12:30 - 14:30 and 18:30 - 20:30
30/09 12:30 - 14:30 and 16:30 - 18:30
01/10 10:30 - 12:30 and 16:30 - 18:30
02/10 10:30 - 12:30
HINTERTUX GLACIER CAMP: 13 to 28 October with one week options
Open to all BSA-registered trainees
£2000, 2 weeks, flights not included. See below. Price includes full board, skipasses, training and transport. Bring euros to buy food for travelling on airport transfers. Kit van travelling out from London. Access for two bags + wax box, £50, includes return to Aosta or London.
Accompanied flights for athletes from Edinburgh or London:
Easyjet, EDI - MUC, 13 Oct 1100 - 1415
Easyjet, MUC - EDI, 28 Oct 1705 - 1835
British Airways, LHR - INN, 13 Oct 1325 - 1625
British Airways, INN - LHR, 28 Oct 1740 - 1845
HINTERTUX one week options
available at £1000, either 13 to 20 October or 21 to 28 October, flights not included. Accompanied flights:
Outward as above, returning on Easyjet, INN - LGW, 20 Oct, 1455 - 1550
Returning as above, outward on British Airways, LHR - INN, 21 Oct, 0730 - 1030
Premier Inn Heathrow option available overnight on 20 October. Call Malcolm on 07970495533.
NOVEMBER CAMP, mainly Tignes: 09 November to 03 December
Elite programme. Open to all FIS and to restricted U16s.
Roving camp, with races.
First camp of European training with races at the end of the block.
6 days of GS
6 days of SL
6/7 races TBC
Fees at £840 per week plus skipasses and travel. Gathering at Tignes or Geneva early afternoon on Friday 09 November.
New Families
If you haven't yet discussed the programme and the registration process (application) please call us at the UK Office for an overview of the race camp and how we work.
Race Camp overview - out of winter season
For 20 years we have provided a comprehensive programme of school holiday training camps outside the winter season, on top of full winter season training with tutorial support.
These camps have been highly successful and the BSA has become the leading supplier of children and junior racers to the UK's national ski teams. Not every racer can make it to the top of the sport, but if you are interested in skiing faster and climbing the ladder to peak performance then these camps are for you!
Please note that the training is for skiers at a fair level of ability for their age. If you would like to discuss the standards of skiing expected please call Malcolm Erskine on 00447970495533.
Insurance Links
snowsportenglandinsurance.com and our latest recommendation for ski training and specific race cover, http://www.ski-insurance.co.uk
FULL WINTER SEASON
Commences 09 December 2018 at Aosta winter base. See Events and Fees pages for more information.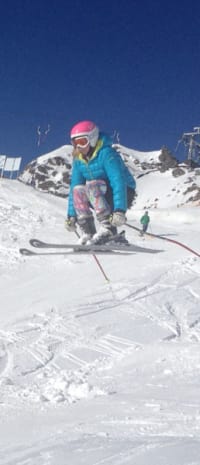 Winks, January 2014